Introduction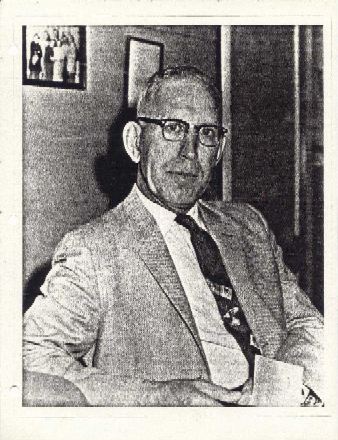 The Chapman Heritage was a sixteen year publication of The Chapman Family Association, and is the basis for much of the information in the Chapman section of this web site.

The Chapman Heritage was a lifelong dream of Elmer Jesse Chapman, who was born on September 11, 1901, as the youngest child of James T. and Annie McNichol Chapman in Memphis, Michigan. "Uncle Elmer" was my mother's uncle.

From the start, Elmer was a curious child, always eager to discover the "Why?" and "What?" of everything. While the other children went off to school, Elmer was always left watching from the yard gate, but at the age of four he learned that if he ran through the peach orchard, down the lane, and caught up with his sister she would take him to school.

Once at school the teacher would have him sit in the front seat and let the older girls take turns teaching him the basics of reading, writing and arithmetic. Since he was no bother, and always very eager to learn, the teacher soon asked his mother to send him every day. For Elmer, this wise teacher was the beginning of a ninety year passion for the field of education.

At age 17, Elmer graduated from high school, and began his career, teaching in a one-room schoolhouse. By the time he retired in 1967, Elmer had gone through the ranks; eventually serving as a principal in the Port Huron Michigan public schools.

Soon after retirement, Elmer was bitten by the genealogy bug, and with the passing of each of his older siblings, that passion became stronger. At the annual Chapman reunions, Elmer liked to share his excitement with others, and eventually he formed The Chapman Family Association.

Asking all of his nieces, nephews, and cousins to collect stories, testimonies, and memorabilia from their families, the collected material soon led to the Association to begin publication of The Chapman Heritage. In its early days, before computers and the internet, this semi-annual newsletter was typewritten and then printed in an 8.5" by 11" format, for mailing to the membership.

Elmer Jesse Chapman died on December 26, 1991.

Sadly, with the final publication of the last chapter of Elmer's "Memories", The Chapman Family Association was dissolved.

As final Publisher and Editor of The Chapman Heritage, I've elected to place all the material from the newsletter into the public domain, and have reproduced it here for the benefit of the hundreds of known descendants of the Chapman Family.
Master Volume Index
Table of Contents
•
1978-1994
Volume 1, Number 1
•
1978-09
Volume 1, Number 2
•
1979-03
Volume 2, Number 1
•
1979-06
Volume 2, Number 2
•
1980-06
Volume 3, Number 1
•
1981-09
Volume 4, Number 1
•
1982-11
Volume 5, Number 1
•
1983-06
Volume 5, Number 2
•
1984-02
Volume 6, Number 1
•
1984-06
Volume 6, Number 2
•
1985-01
Volume 7, Number 1
•
1985-07
Volume 7, Number 2
•
1985-12
Volume 8, Number 1
•
1986-06
Volume 8, Number 2
•
1987-03
Volume 9, Number 1
•
1987-06
Volume 9, Number 2
•
1988-01
Volume 10, Number 1
•
1988-06
Volume 10, Number 2
•
1988-12
Volume 11, Number 1
•
1989-06
Volume 11, Number 2
•
1989-12
Research Report
•
1990
Volume 12, Number 1
•
1990-06
Volume 12, Number 2
•
1990-12
Volume 13, Number 1
•
1991-06
Volume 13, Number 2
•
1992-01
Volume 14, Number 1
•
1992-06
Volume 14, Number 2
•
1993-06
Volume 15, Number 1
•
1993-06
Volume 15, Number 2
•
1993-12
Volume 16, Number 1
•
1994-06